Grilled Creole Chipotle Chicken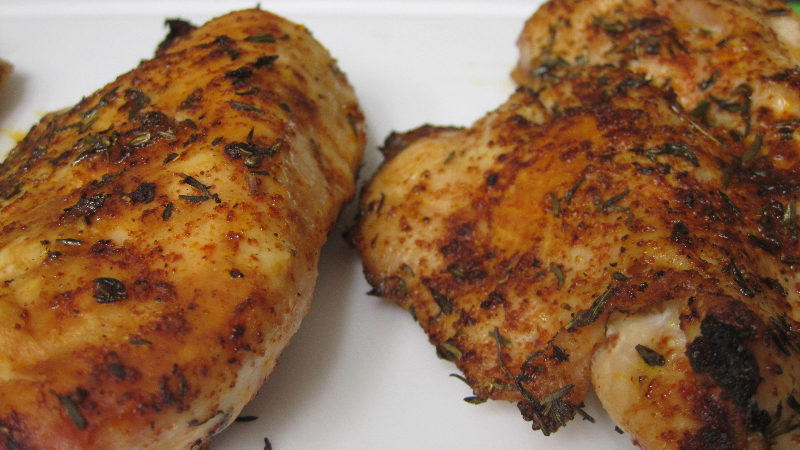 It's grilling season and we have a simple but very tasty chicken recipe for you to try. If you like a some heat but not too much, then this recipe is perfect for you. It doesn't matter if you are a charcoal or propane grill fan you just might add this to your chicken recipe list!
Man That's Cooking
Ingredients
3 – 4 boneless skinless chicken breasts
1 teaspoon Tony Chachere's Creole Seasoning
2 teaspoon chipotle powder
1 teaspoon dried thyme
1 tablespoon olive oil
Directions

This recipe will use Tony Chachere's Creole Seasoning. If you have not tried this seasoning before, it contains heat from cayenne pepper. If cayenne is too much heat for you, then check out our Grilled Chicken Breast Pollo Asado recipe.


First, remove the chicken from the packaging and dry them off with a paper towel. Next coat all sides of the chicken with olive oil. Next season as heavily as you like with Tony Chachere's Creole Seasoning. Next apply chipotle powder and finally sprinkle on the dried thyme.


Preheat your grill to 400 degrees and then turn down all burners to low temp.


This recipe works best with some pecan wood smoke flavor. It is not required but if you have been on the fence about trying out wood chips or pellets, this is the time! It's a very small investment with a big flavor return. So load up your smoke box with pecan chips or load up your pellet tube with pecan pellets and get them started on the grill.


When your grill is preheated, and your smoke box or tube is smoking, place the chicken above the smoke on an upper shelf. If you do not have an upper shelf, or smoke box / tube, just grill the chicken on the bottom grate. Cook the chicken for about 10 minutes, then flip once and cook for another 10 minutes. At this point check the temperature at the thickest point. You should reach 165 F internal temp. If you do not yet have a food thermometer you will need to slice into the thickest part and check for red or pink colors. Continue to cook until the pink becomes white. The downside of slicing the chicken for doneness checks is that you will drain the juices out of the chicken and that makes people sad. So buy a food thermometer!


Once the chicken is done and pulled from the grill, allow it to rest for 5 minutes before slicing and serving.



Print This Recipe

Watch How To Make This Recipe