Grilled Taco Burgers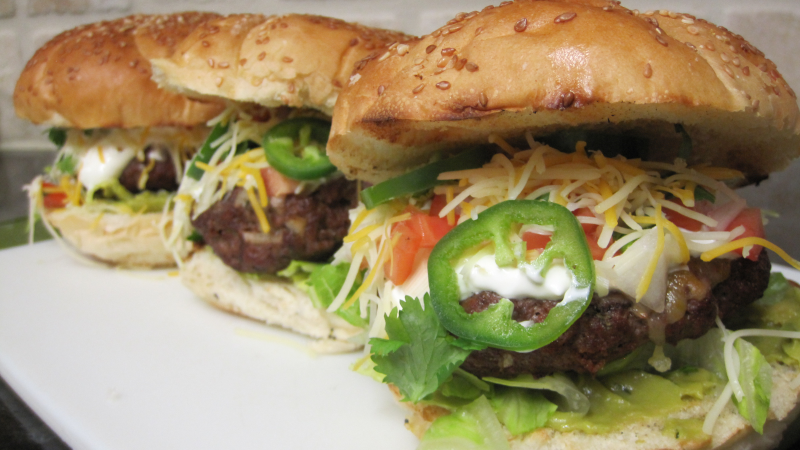 Cinco de Mayo is coming up and we've got your BBQ party food covered! Why make traditional corn shell tacos when you can grill up some taco burgers! So try out this delicious recipe for grilled taco burgers and you won't be disappointed.
Man That's Cooking
Ingredients
1.5 pounds ground chuck
1 taco seasoning packet
2 jalapeno peppers
1/2 white onion
2 plum tomatoes
3/4 cup cilantro
1 romaine lettuce heart
1 cup shredded monterey jack cheese
1/2 cup sour cream
1/2 cup guacamole
6 keiser burger buns
1/2 stick salted butter
Directions

Start with a large bowl for chopped veggies, and a medium bowl for the ground beef mixture. First dice half of a white onion and place it into the large bowl. Take out ¼ cup of the onion and finely chop it, then place it in a medium bowl. Next dice 2 plum tomatoes and add them to the large bowl. Next pick 1/2 cup of cilantro leaves and place them in the large bowl. Following this, finely chop ¼ cup of cilantro and place it in the medium bowl. Next slice 2 jalapenos and put them aside in a small container. Wash and shred one heart of romaine lettuce and set it aside in another container.


Next, add the ground chuck to the medium bowl. Mix the beef, onion, and cilantro for about 1 minute until it is well mixed. Add in one packet of taco seasoning and mix together for another minute. Form the beef into 6 equal sized patties and place them on a cutting board. Add salt and pepper to the tops of the patties.


Next melt 1/2 stick of butter and brush the butter onto sliced keiser burger buns.


Preheat your grill to 400 degrees and then turn down all burners to low temp.


When your grill is preheated, grease the grill area and add the burger patties. Cook the burgers for 8 minutes, then flip and cook another 8 minutes. After this, move the burgers to the top rack of your grill, then add shredded cheese to burger patties. Place the keiser buns on the grill and allow everything to cook for 2 minutes with the grill lid closed. Remove the keiser buns and burger patties.


Assemble the burgers starting with the bottom bun followed by guacamole, shredded lettuce, burger patty, sour cream, onion tomato cilantro mix, shredded cheese, then sliced jalapenos. Finally add top bun and take a bite and enjoy.



Print This Recipe

Watch How To Make This Recipe