Jalapeno Popper Potato Salad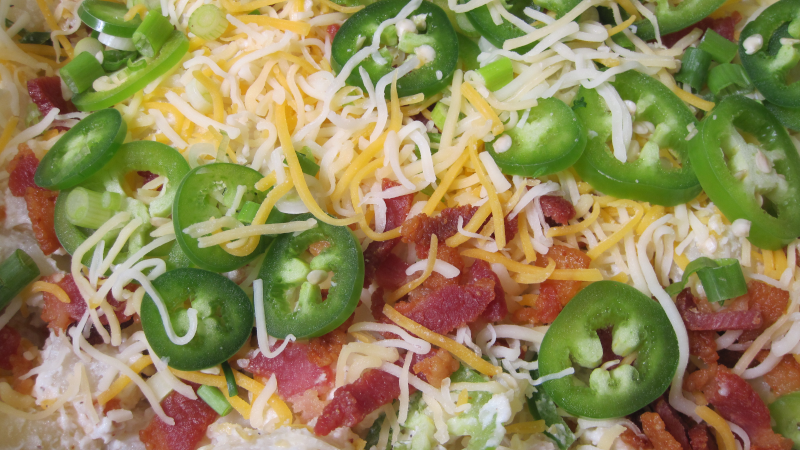 Get ready for a hot summer with this jalapeño popper potato salad recipe. This recipe combines all your favorite jalapeño popper flavors with the comforts of delicious baked potato flavors. It's easy to make and will disappear fast at a cookout!
Man That's Cooking
Ingredients
3 pounds medium red potatoes
1/2 pound bacon
2 jalapeno peppers
3 green onions
8 oz block cream cheese
1/2 pound mexican blend or monterey jack cheese
1/2 cup mayonnaise
1/2 teaspoon garlic powder
1/4 teaspoon kosher salt
1/4 teaspoon black pepper
Directions

First, remove the cream cheese from the refrigerator and bring it to room temperature.


Next, stack the bacon slices and then cut them into small bits. Seperate the bits and place them into a frying pan. Fry the bacon bits on a medium heat until fully cooked. Using a slotted spoon, remove all of the bacon and place it on paper towels to dry.


Place the potatoes and 1 tablespoon of salt in a large pot, and cover the potatoes with water. Bring the potatoes to a boil on high heat and then reduce the heat to medium low to maintain a simmer. Cook the potatoes about 20 minutes until a small knife can be inserted without resistance. At this point drain the water and allow the potatoes to cool. After about 20 minutes, peel the potatoes then cut them into small chunks and add them to a mixing bowl.


While everything is cooking, thinly slice the jalapeno peppers. Following this, chop the green onions. In a large bowl, combine the cream cheese, mayonnaise, garlic powder, and pepper. If you are not a fan of mayonnaise you can substitute with sour cream. Mix the dressing together for a minute. After slicing the potatoes, pour this dressing over them and mix well. Taste the potato with dressing mixture and decide if you want to add more mayonnaise (or sour cream) Stir in most of the bacon bits, green onion, jalapenos, and cheese leaving some behind as a topping. Check the flavor and add any salt if needed. Transfer the potatoes to a serving dish and top with the remaining bacon, peppers, onions, and cheese.



Print This Recipe

Watch How To Make This Recipe