Southern-ish Potato Salad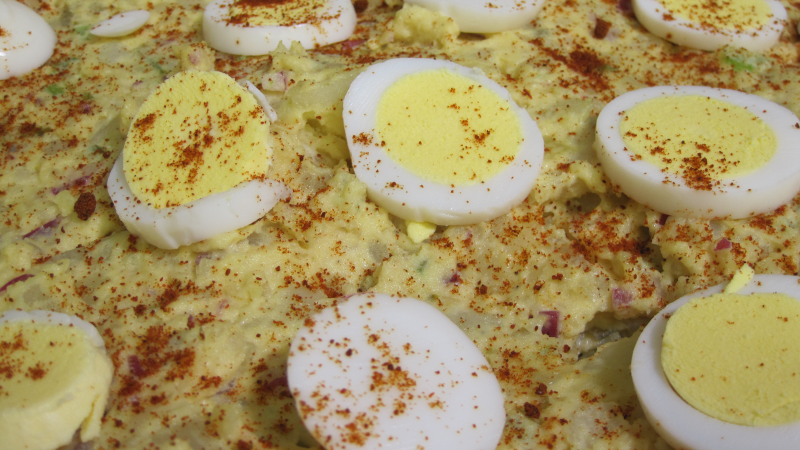 This recipe is a non sweet take on a classic potato salad. It has similar ingredients such as dill relish instead of sweet relish but also adds a little heat with cayenne pepper. If you are not into sweet or maybe you are into trying out new recipes, give this one a try.
Man That's Cooking
Ingredients
3 pounds russet potatoes
1 tablespoon kosher salt (for potato boil)
1 cup mayonnaise
1/4 cup yellow mustard
1 tablespoons apple cider vinegar
1/4 cup dill pickle relish
2 celery stalks
1/2 cup red onion
2 hard boiled eggs
1 teaspoon kosher salt (for dressing)
¼ teaspoon black pepper
¼ cayenne pepper
¼ teaspoon paprika
1 teaspoon sugar
½ teaspoon celery salt
½ teaspoon garlic powder
Directions

Place the potatoes and 1 tablespoon of salt in a large pot, and cover with water. Bring to a boil on high heat and then reduce the heat to medium to maintain a simmer. Cook for about 20 – 30 minutes until a small knife can be inserted into the potato without resistance. At this point drain the water and allow the potatoes to cool. After about 20 minutes, peel the potatoes with a pairing knife then cut them into small chunks and add them to a large mixing bowl.


While the potatoes are cooking, dice the onion and celery. Set this aside in a large mixing bowl.


In a small mixing bowl, combine the mayonnaise, mustard, relish, vinegar, and all seasonings listed. Stir the ingredients together until they are well blended. Pour the dressing over the potatoes and diced veggies, then stir lightly for a few minutes. Try to break down any large potato chunks with your spoon. Cover the bowl with cellophane and allow this to sit overnight in the refrigerator.


The next day, season the top of the potato salad with paprika. Slice the hard boiled eggs and layer them on top. Lightly sprinkle paprika on the eggs. Serve and enjoy!



Print This Recipe

Watch How To Make This Recipe