Smoked Cowboy Beans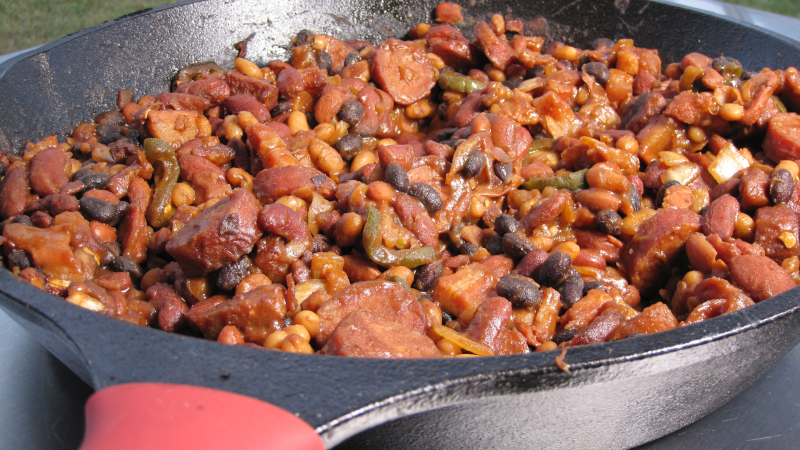 Cowboy beans are a spicy delicious side dish or main course for your next summer BBQ. If you like jalapeño peppers and some sweet heat, give this recipe a try!
Man That's Cooking
Ingredients
1 16 oz can kidney beans
1 16 oz can pinto beans
1 16 oz can navy beans
1 16 oz can black beans
12 ounces of salt pork or bacon
4 bratwurst sausages
1 yellow onion diced
2 jalapeno peppers
1/4 cup brown sugar
1/4 cup molasses
1/4 cup ketchup
1/2 cup bbq sauce
1 tablespoon yellow mustard
1 tablespoon worcestershire sauce
1 teaspoon chili powder
1 teaspoon cumin
1/2 teaspoon garlic powder
1 tablespoon BBQ rub
Directions

First, lay out the 4 bratwurst sausages and salt pork slices onto a cooling rack. Season all sides with your favorite BBQ rub. Place the sausage and bacon cooling rack in the smoker and cook at 250 F for 2 hours. Use your favorite pellets because this recipe works with a variety of smoke flavors.


While the meat is smoking, dice one yellow onion, then slice two jalapenos leaving the seeds in. Open each can of beans, drain the liquid into the sink, then pour the beans into a large cast iron skillet or foil pan. Add the onion, jalapenos, BBQ sauce, ketchup, mustard, worcestershire sauce, chili powder, cumin, garlic powder, brown sugar, and molasses. Stir everything until all the ingredients are combined.


When the meat is finished smoking, pull it from the smoker and allow it to cool for 5 minutes. Slice the bratwurst and pork as thin or thick as you like, then add it to the bean mixture. Stir everything together once again, then place it on the smoker. Smoke at 250 F for 2 hours stirring every half hour.


Print This Recipe

Watch How To Make This Recipe