Detox Weight Loss Soup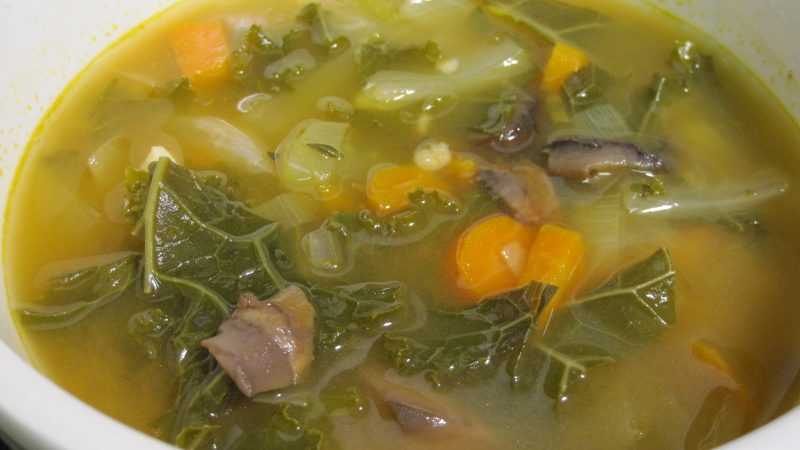 And after a year of COVID and lockdown many of us have put on a few extra pounds. Sometimes soup is all you need, and this recipe will help to nourish and clean out impurities. And hey, maybe you will drop a few pounds too! You can follow this recipe as is or you can easily modify it with any vegetables that you like. If you make changes, try to include beans of some kind. They give you a hearty protein that helps you to feel full.
Man That's Cooking
Ingredients
2 – 32 oz vegetable broth
4 cups water
4 celery sticks
4 carrots
2 small spanish onions
1 leek
4 cups (3 large leaves) fresh kale
2 cups chopped mushrooms
4 cloves garlic
1 can cannellini or small white beans
1 lemon juiced
1 zest of full lemon
1 tablespoon olive oil
1 teaspoon fresh thyme
Directions

First, add olive oil to a large stock pot and heat on medium high. Next dice the onion, carrots, and celery and cook for about 10 minutes until the onions are translucent.

Wash the mushrooms, chop them slightly into smaller bits, then add to the pot. Mince the garlic and add to the pot. Stir for several minutes, then add the zest of one lemon.


Add the vegetable broth, water and juice from the lemon. Slice and wash the leeks and add them to the soup. Remove the stems from the kale then chop the leaves into small bits. Add the kale to the pot then set the heat to high.


Allow everything to boil for 2 minutes then turn down the heat to low. Cover and cook on low for 1/2 hour. Add the beans and continue to cook for 1/2 hour to 2 more hours. Add salt and pepper to taste.



Print This Recipe

Watch How To Make This Recipe