Italian Pasta Salad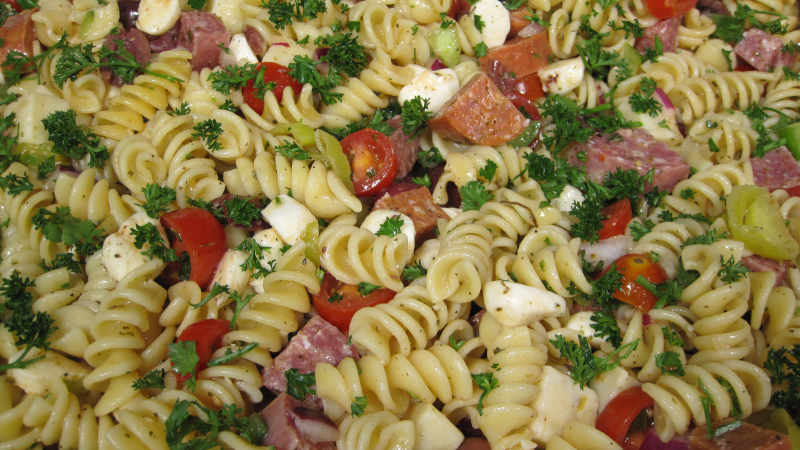 Cookouts and get togethers need a crowd pleasing side dish to compliment the main course. This recipe produces nearly 6 pounds of deliciousness for everyone except vegans. This recipe is American inspired so your Nonna's true Italian recipe still reigns supreme. But with that said, these ingredients should be easy to find in most USA grocery stores. You can prepare most of the recipe ahead of time and cook the pasta on the final day. Combine everything together and you get one hearty and tasty dish.
Man That's Cooking
Ingredients
1 pound rotini pasta
8 oz mozzarella balls
8oz pepper jack cheese
9oz genoa salami
6oz pepperoni
1 pint cherry tomatoes
½ red onion
½ green pepper
½ cup halved kalamata olives
½ cup sliced pepperoncini
½ cup parsley
Dressing
½ cup olive oil
¼ cup white vinegar
2 tsp Italian seasoning
1 tsp dijon mustard
½ tsp salt
½ tsp black pepper
Directions

First, cook the pasta following the instructions on the package. Typically you should boil 4 – 6 quarts of water. Add salt and the pasta then boil for 7 – 8 minutes. Drain the pasta and allow it to cool.


Slice the cherry tomatoes in half or thirds if they are large. Dice half of a red onion and dice half of a green pepper. Add everything into a large mixing bowl. Add the sliced kalamata olives and sliced pepperoncini. Next, cut the salami and pepperoni into small cubes and add it to the bowl.


Next cut the mozzarella balls in half and add them to the bowl. Cut the pepper jack into small cubes and add to the bowl.


Prepare the dressing by combining the ingredients into a jar then seal the jar. Shake until everything is well combined.


Pour the pasta into a 9 x 13 foil pan. Pour the diced ingredients from the large mixing bowl.
Mix everything together while incorporating the dressing. Top with chopped parsley.


Print This Recipe

Watch How To Make This Recipe