Loaded Smashed Mashed Potatoes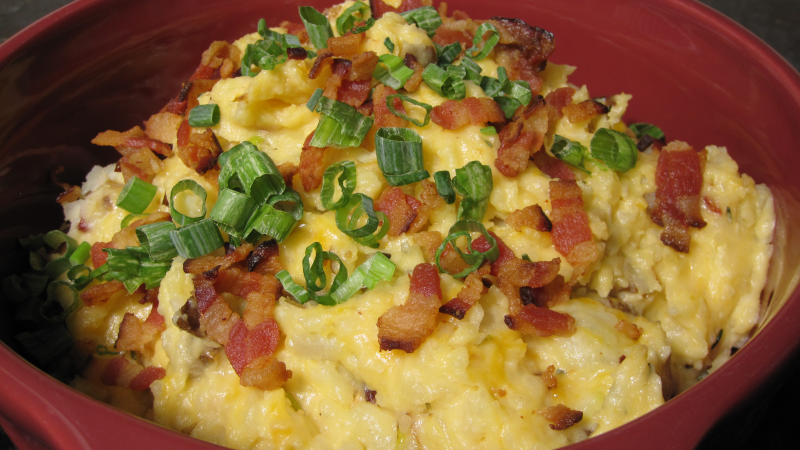 In a world of mashed potatoes dominated by Joel Robuchon's perfect French mashed pommes de terre recipe, we bring you a somewhat polar opposite. This is a hearty rustic flavor rich expression of what a potato truly can become. Ok enough fluff, this is a simple easy to make recipe that will compliment anything you are cooking up for the holidays or a special weekend meal. The main goal of this recipe is to mix chunky bits and skins of the potato into a dairy and bacon infused mashed potato experience. All of the non potato veggie chopping steps and cheese shredding steps can be done ahead of time allowing you to stress less on the holiday. And when you make this recipe not only is it an easy win but you might be elected master chef for your next family gathering.
Man That's Cooking
Ingredients
4 – 5 (3 pounds) russet potatoes
3 garlic cloves
3 green onions
1 stick butter
1 cup heavy whipping cream
8 oz sharp cheddar cheese
2 sprigs fresh thyme or rosemary
12 oz bacon
1 tablespoon salt
Directions

Wash then cut the potatoes into about 6 large chunks. Leave the skins on and make sure all chunks are relatively the same size. Place the potatoes in a large pot, add the salt, and cover with water. Bring to a boil on high heat and then reduce heat to medium and maintain a simmer. Cook 15 – 25 minutes until potatoes are tender when stuck with a fork or knife. Drain the potatoes and let them drip dry for a few minutes before adding them back to the pot with the burner off.


While the potatoes are cooking, slice the bacon into bits and fry it in a skillet on medium heat. When the bacon grease starts foaming and the bits are turning brown, remove the bits with a slotted spoon and place them on layered paper towels.


While the bacon is cooking, thinly slice the green onions, setting aside some of the green ends for a topping later on. Mince the garlic cloves. Mince the fresh thyme. Hand shred the block of cheddar cheese.


In a skillet at medium heat, add about ¼ tablespoon of butter. Fry the onions for about 3 minutes, then add the garlic and thyme or rosemary. Continue cooking for 2 minutes, then reduce the heat to low. Add the remaining butter, whipping cream, and about half of the cheese.


Combine the skillet contents, the remaining shredded cheese and bacon bits into the pot with the potatoes. Using a potato masher, partially mash the potatoes, leaving some large chunks. Stir everything together until all is incorporated. Top with the green onions that were set aside.


Print This Recipe

Watch How To Make This Recipe