Lentil Soup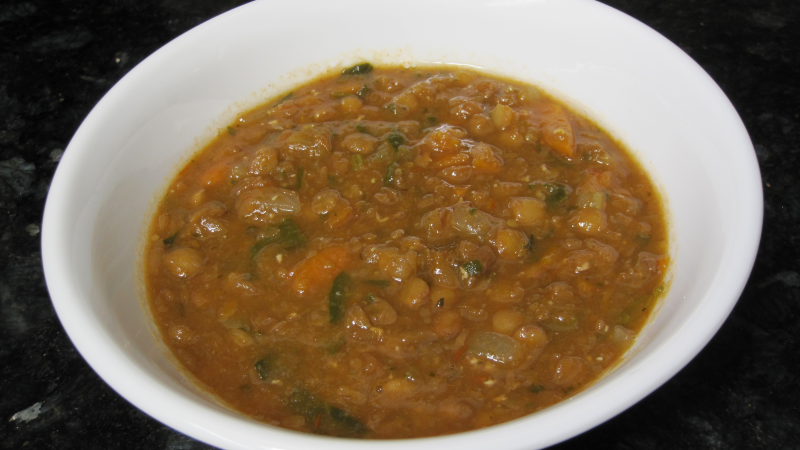 On a cold day or even in the middle of summer, lentil soup is always a pleasure to eat. This soup is easy to make and you can prep ahead of time all the chopping work. It freezes nicely for several months and it can stay refrigerated for up to a week. If you like lentil soup but never made it before, you will be surprised at how delicious this home made version will taste. And it totally blows away lentil soup in a can, there is just no competition.
Man That's Cooking
Ingredients
8 cups vegetable broth (2x 32 oz containers)
16 oz package dried lentils
14 oz crushed tomato
4 stalks of celery
4 stalks of carrots
1 yellow onion
2 cloves garlic
2 dried bay leaves
1 teaspoon dried thyme
1 lemon juiced
1 cup chopped baby spinach
1 chicken bouillon cube
Directions

First dice the onions, carrots and celery. Add olive oil to a stockpot and heat it on a burner at a medium temperature. Saute the onions, celery, carrots and thyme. Mince the garlic, then add it to the stockpot and saute it for 1 minute.


Add the vegetable broth and bouillon cube to the stockpot. Next, wash the lentils and remove any rocks and debris. Add the lentils and crushed tomatoes to the stockpot. Bring everything to a boil (about 5 minutes), then reduce the heat to medium low. Simmer for 30 minutes covered with a lid.


After 30 minutes, use an immersion blender to puree the soup part way. You can use a regular blender if you don't have an immersion blender, but just pulse a few cups of the soup. Add the chopped greens and lemon juice then cook with the lid slightly open for at least 30 minutes. Salt and pepper to taste.


Print This Recipe

Watch How To Make This Recipe