Pellet Smoked Cheesy Broccoli Rice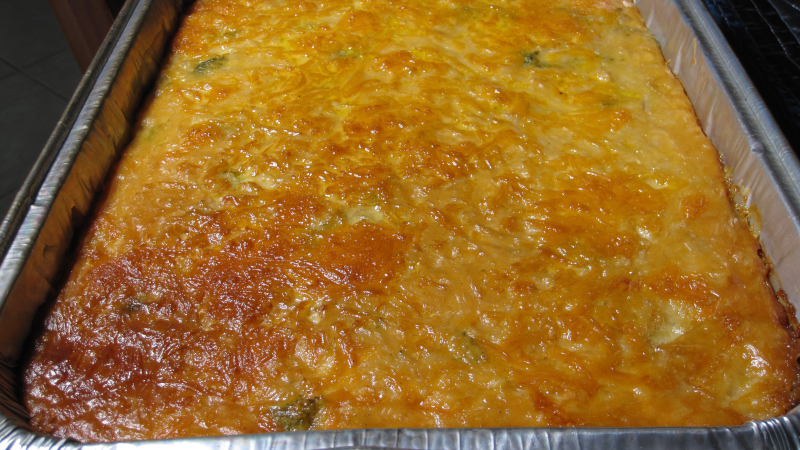 Sometimes a good meal needs a killer side dish. This is one of those crowd feeding side dishes that has your back on the holidays or for any get together cookout. Even if you have a small eating crew, the leftovers will freeze well for another day. Smoked cheesy broccoli rice pairs so well with many other foods that it might become your go to side dish. Kids love the cheese flavor, grandparents missing teeth love it, you just can't go wrong.
Man That's Cooking
Ingredients
2 heads of whole broccoli
1 yellow onion
2 cups white rice
32 oz chicken broth
16 oz cheddar cheese
8 oz swiss cheese
8 oz mozzarella
1 quart milk
½ cup all purpose flour
1 stick (8 tablespoons) butter
Directions

First, hand shred the cheddar, swiss, and mozzarella cheeses and set this aside in a large bowl. Keep about 1 cup (8oz) of cheddar cheese off to the side for later topping.


Next, remove the large stems from the broccoli florets. Cut the florets into small sizes. Chop parts of the stems into small bits. Par boil the broccoli for no more than 5 minutes then drain in a colander. Run cold water over the broccoli to stop the cooking process.


Finely dice the onion and fry for about 5 minutes until the onion starts to turn translucent.


Bring the 32 oz of chicken broth to a boil, then add the 2 cups of white rice. Reduce the heat to a simmer and cook for 20 – 25 minutes until rice is cooked and tender.


Next prepare the bechamel starting by melting the butter in an 8 qt pot on medium heat and stirring in the flour with a wooden spoon. Cook until it turns light brown, then slowly incorporate the room temperature milk. Next slowly incorporate the cheese and stir with a whisk when the mixture becomes thick.


Finally add the broccoli, onion and rice into the cheese sauce and mix together. Pour the final mixture into a 9×13 foil pan. Top with the shredded cheese that was set aside.


Smoke with pecan or apple pellets at 250F for 3.5 hours.


Print This Recipe

Watch How To Make This Recipe