Hearty Minestrone Soup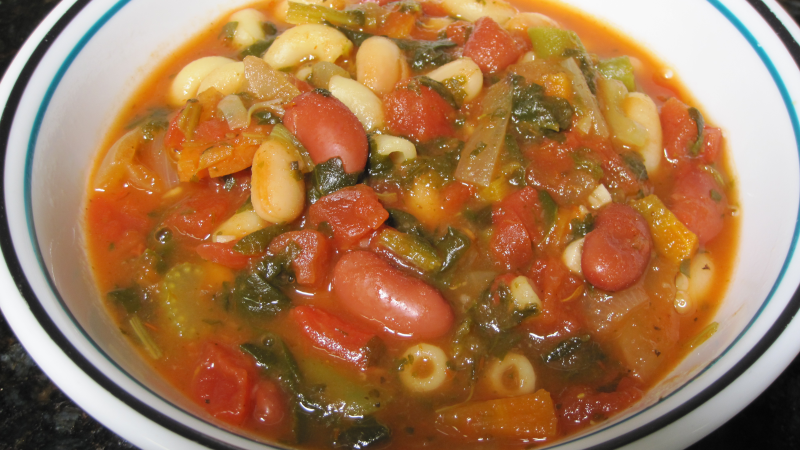 Nothing warms you up on a cold winter day better than a delicious hearty soup. This hearty minestrone soup recipe is loaded with tasty ingredients that take very little effort to put together. All you need to do is chop an onion, some celery, carrots and garlic and the rest just gets dumped into the pot. The soup is made hearty by cooking it with the lid slightly open to let out some steam. This reduces the broth by steaming off the water but keeps in all the good flavor. This soup is meat free but you can add in some cooked Italian sausage for extra heartiness.
Man That's Cooking
Ingredients
32 oz vegetable broth
1 white onion
3 celery stalks
3 carrots
2 garlic cloves
1 14 oz can crushed tomatoes
1 28 oz can of diced tomatoes
1 15 oz can cannellini beans
1 15 oz can kidney beans
1 cup frozen green beans
1 1/2 cups frozen chopped spinach
1 cup elbow or small shell pasta
1 tsp Italian seasoning
1/2 tsp kosher salt
Directions

First dice the onions, carrots and celery. Add olive oil to an 8 quart stockpot and heat it on a medium temperature. Saute the onions, celery, and carrots for 8 – 10 minutes. Mince the garlic, then add it to the pot and saute for 1 minute. If you have fresh spinach (not frozen) chop it and add to the stockpot at the same time as the garlic. Add the vegetable broth, crushed tomatoes, and diced tomatoes.


Next, drain and discard the liquid from the canned beans then add them to the stockpot. Add the frozen green beans and frozen spinach. Cover the stockpot with a lid and bring the soup to a boil on medium high heat.


Reduce the heat to almost medium and simmer the soup for 15 minutes with the lid slightly open on the side to let out steam. This is optional and will thicken up the soup but you can close the lid tight during this step.


Next add the pasta and the Italian seasoning then continue cooking for 15 – 20 minutes. Check the tenderness of the pasta at 15 minutes and allow it to cook longer if needed. Turn the heat to low, then salt and pepper to taste.


Print This Recipe

Watch How To Make This Recipe