Pellet Smoked Mac and Cheese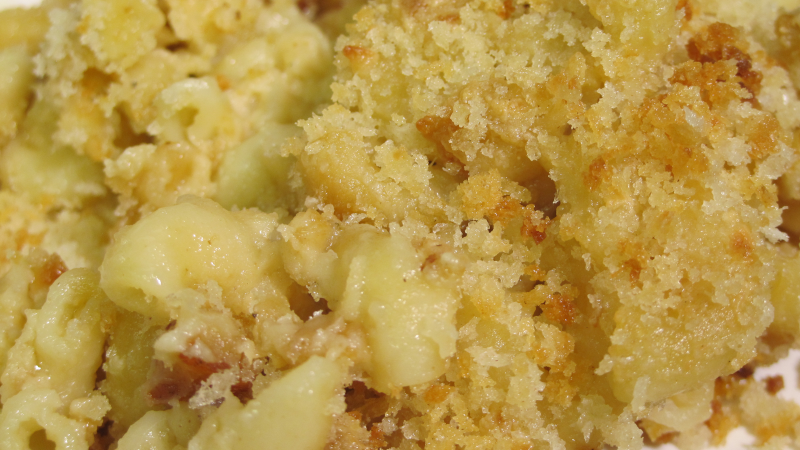 Most people love mac and cheese, but have you ever tried smoked mac and cheese? If you have then you know how much better it is over traditional oven baked versions. With this recipe you get a unique flavor with this blend of cheeses and the optional jalapeño peppers. It's super easy to cook on your pellet smoker, but if you must, you can bake it in the oven too. For a topping, this recipe uses buttery browned panko breadcrumbs. If you're not a fan then simply apply more shredded cheese on top and follow the last broiler step. Now with that said, this recipe is NOT for the gooey runny melty style mac and cheese. If that's what you are after, use more soft cheeses such as mozzarella or maybe even ricotta or mascarpone.
Man That's Cooking
Ingredients
16 oz package elbow macaroni
4 tablespoons butter + 2 tablespoons for bread crumbs
3 cups milk or half and half
8 oz cream cheese
¼ cup flour
8 oz cup shredded cheddar cheese
8 oz cup shredded gouda cheese
8 oz cup shredded parmesan cheese
1 cup panko breadcrumbs
1 teaspoon kosher salt
¼ teaspoon black pepper
1 teaspoon ground mustard
2 jalapenos (optional)
Directions

Bring the 8oz of cream cheese to room temperature and slice it into smaller blocks.


Bring a pot of water to a boil and cook the macaroni to the al dente firmness which is usually 6-8 minutes (follow the packaging instructions). When ready, pour the macaroni into a colander and run cold water over it to stop the cooking process. Mix the macaroni around to cool down all bits. Now you have partially cooked macaroni and it will finish cooking when you put it on the smoker.


Next, hand shred the cheeses and set it aside in a large bowl. Following this, remove the seeds from 2 jalapeno peppers and dice them up.


Next start the cheese sauce by melting 4 tablespoons of butter in a pan on medium heat. When the butter is melted, whisk the flour into the butter until the sauce thickens (about 2 minutes). Whisk in the milk (or half and half) and raise the heat to medium high and bring to a boil. Cook for about 2 minutes then whisk in the salt, pepper, and mustard ingredients. Turn the heat down to medium low and start adding the cheese. First start with two chunks of cream cheese and stir with a wooden spoon until fully melted. Continue to add cream cheese until it is fully incorporated into the sauce. Next add the shredded cheese about 1 cup at a time and stir into the sauce. When all the cheese is added, stir in the chopped jalapenos. Next add the macaroni into the sauce and stir until it is fully coated with cheese sauce.


Next pour the mac and cheese into a large cast iron skillet or a lasanga foil pan. Have your pellet smoker running at 250 F with pecan or apple pellets. Place the skillet or pan on the smoker and cook for 2 – 2 1/2 hours. Use a toothpick and test for doneness. When it slides in with no resistance, the mac and cheese is ready.


Next melt 2 tablespoons of butter in a small saucepan and stir in the panko breadcrumbs. Cook for about 3 minutes until all the butter is absorbed but try not to brown the breadcrumbs. Sprinkle the breadcrumbs on top of the mac and cheese. Set your oven broiler on low, then cook the mac and cheese for 1 minute. Be careful not to burn the breadcrumbs, you just want them brown. Let it cool for a few, then serve and enjoy!


Print This Recipe

Watch How To Make This Recipe