Baked Zucchini Lasagna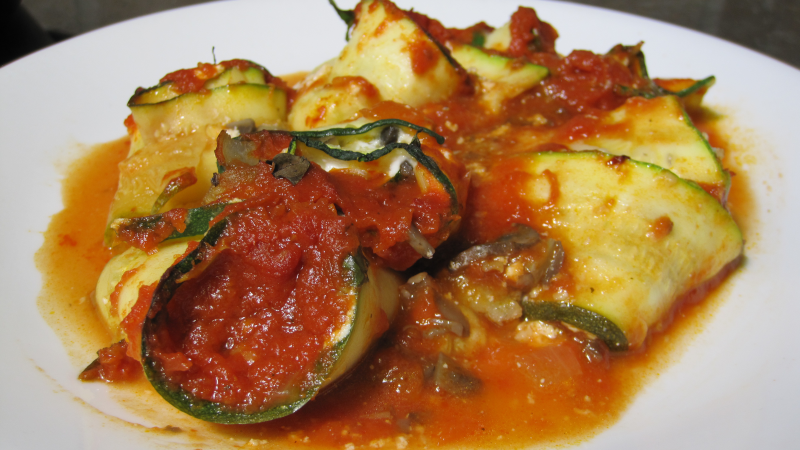 Need a break from meat? Yes you do and it's okay because we've got you covered with this meat free Monday masterpiece! Not going to lie, this recipe takes a bit of time to prepare but you will thank your past self on the first future bite. For this recipe we add onion, artichoke and portobello mushrooms to the cheese stuffing. This elevates the flavors well above other similar recipes. Give this recipe a try, you will love it!
Man That's Cooking
Ingredients
3 /12 lb green zucchini
25 oz cento marinara
1 can artichoke hearts
1 white onion
1 package portobello mushrooms
1/2 cup fresh basil
1/2 lb shredded parmesan
15 oz ricotta cheese
Directions

First, wash and cut the ends off of the zucchini. Use a mandolin with the thin blade (approximately 1/8 inch thickness) and slice the zucchini and discard any small slices that come from the outer edges. Place several paper towels on a baking sheet then put one layer of zucchini slices on the paper towels. Sprinkle kosher salt on both sides of the zucchini slices, then apply another layer of paper towels. Repeat the process until you have stacked all zucchini slices salted in paper towels. This will draw out moisture in the slices and make them more flexible and better for cooking. Let them sit for at least 30 minutes.


Next dice the white onion and place it in a 10in skillet on medium heat. Wash and dice the mushrooms and add them to the skillet. Finally drain the liquid from the artichoke hearts, dice them and add them to the skillet. Fry the vegetables for about 15 minutes until the onions are translucent and the mushrooms are brown.

Next, pour a thin layer of marinara sauce and spread it around on the bottom of a 12 inch cast iron skillet. Remove the zucchini slices from the paper towels and wipe off any salt. Take a zucchini slice and spread about 1/2 teaspoon of ricotta cheese on the zucchini. Add the vegetables to the cheese, then top it with the shredded parmesan cheese. Add some chopped basil if desired. Roll up the zucchini from the wide end to the small end and place in the skillet. Start from the center of the skillet and work your way outward with the placement of the rolls. When all the zucchini slices are used up, sprinkle any leftover vegetables and cheese on top of the rolls. Gently pour the rest of the marinara sauce on top of the rolls.


Bake in the oven on at 375 degrees Fahrenheit for 45 minutes. Allow to cool for 5 minutes (the cheese will be very hot) then serve and enjoy!



Print This Recipe

Watch How To Make This Recipe