Coffee Chipotle Steaks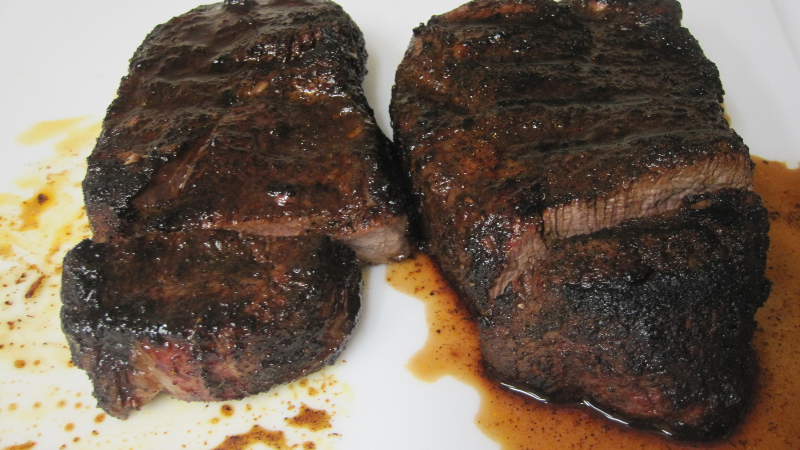 It's time to step up your steak game with easy and serious flavor! This recipe is surprisingly delicious and you get to make your own steak rub!
Man That's Cooking
Ingredients
1 tablespoon espresso
2 teaspoons chipotle powder
2 teaspoons smoked paprika
1 teaspoon kosher salt
1/2 teaspoon black pepper
1 teaspoon brown sugar
2 ribeye or NY strip steaks
1 package large asparagus
Directions

In a small mixing bowl, combine espresso, chipotle powder, smoked paprika, kosher salt, pepper, and brown sugar. Mix the ingredients together for about 1 minute until thoroughly combined. Next lightly coat the full surface of the steaks in olive oil. This will help the rub to stick to the steaks. Next, completely cover all sides of each steak with the rub. It's a good idea to coat the steaks heavily with the rub, more is better! For this recipe, large asparagus makes an excellent side dish. To prepare these, lightly coat them first in olive oil, then sprinkle with salt and pepper. Next, preheat your grill to 500F and if you have wood chips, use mesquite or Jack Daniels oak barrel chips. Once your grill reaches temperature, add the asparagus to the grill. Large asparagus is thick and takes some time to cook so give them a 5 minute head start. Next add your steaks to the grill cooking at 7 to 10 minutes per side. When the steaks reach your desired finished temperature, pull from the grill and enjoy!



Print This Recipe

Watch How To Make This Recipe