Caprese Capicola Breads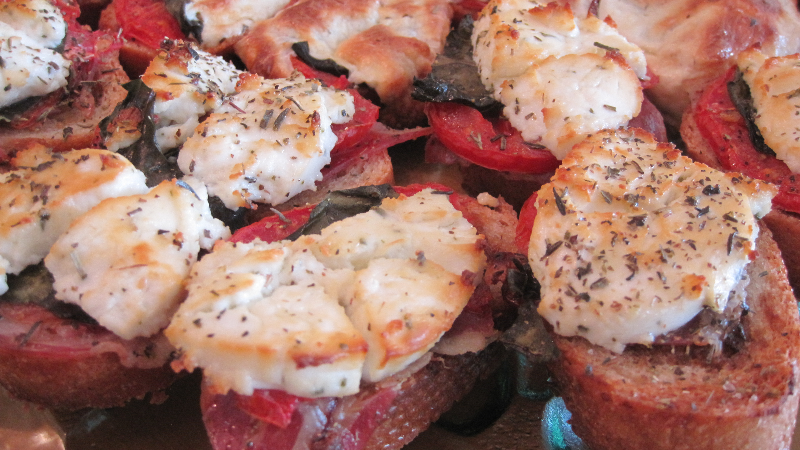 Need an appetizer for Thanksgiving or Easter or any NFL Sunday? Try this recipe for a multi layered flavor explosion!
Man That's Cooking
Ingredients
2 French baguettes
1 16 oz package mozzarella
1 4 oz package feta (optional)
1 3oz boar's head sweet capicola
1 2oz basil leaves
4 plum tomatoes
1 stick butter
⅓ cup olive oil
⅓ cup balsamic vinegar
1 tablespoon herbs de provence
Directions

First, melt one stick of butter on the stove top or microwave. Next, cover 2 cookie sheets with aluminum foil. Slice the baguettes into ½ inch slices and place the slices on the cookie sheets. Brush the melted butter on one side of all the bread slices. Next, flip the bread slices so that the buttered side is down. Brush the top side with a light amount of balsamic vinegar. Cut each slice of capicola into 4 equal parts. Place one capicola part on each bread. Using a mandolin, slice the 4 plum tomatoes using a medium slicer insert. Add a slice of tomato to each bread. Salt and pepper the tomato topped breads. Next, cut basil leaves to the size of the bread slices and add to the top of the tomato. Slice the mozzarella to roughly the size of the bread and add to the top of each bread. If you decide to use the optional feta, do the same using up all the feta. Drizzle a light amount of olive oil over the breads. Season each bread with herbs de provence. Preheat your oven to 350. Bake the breads for 30 minutes or until the cheese is brown and melting. If after 30 minutes the cheese is not brown, turn on the top broiler in the oven and cook for 2 minutes. When using the broiler, keep an eye on the breads. The broiler works fast be sure not to burn your cheese!



Print This Recipe

Watch How To Make This Recipe