Smoked Grilled Dry Rub Wings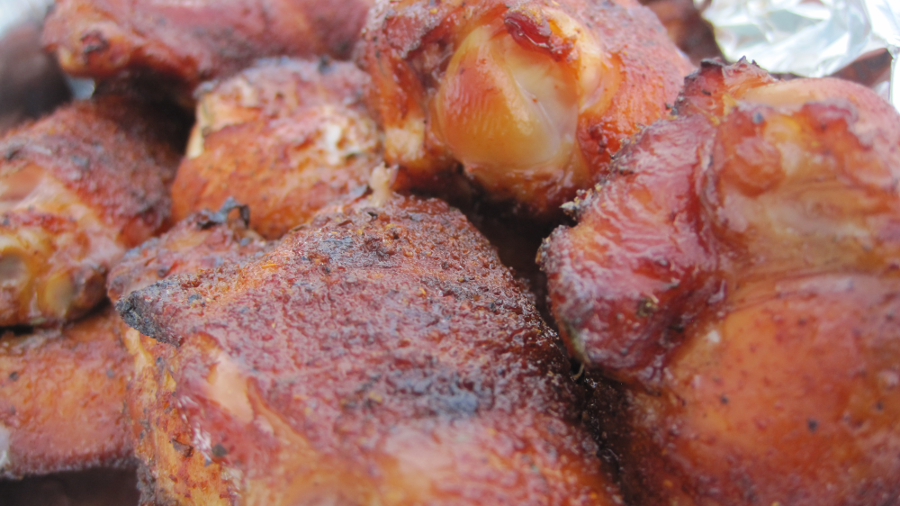 Smoked grilled chicken wings are by far the best tasting wings you can make in your back yard. When you combine smoke flavor along with the fire of your grill it's truly heaven. People that hate grilled wings have eaten these and love them. If you have a pellet smoker and a grill, give this recipe a try and you might never go back to plain old grilled wings again!
Man That's Cooking
Ingredients
8 pounds chicken wings
1 qt apple juice
2 tablespoons kosher salt
1 teaspoon sage powder
1 teaspoon thyme
1 teaspoon rosemary
1 tablespoon Lawry's Lemon pepper
1 tablespoon Goya Adobo
1 tablespoon Killer Hogs AP Rub
1 tablespoon Plowboys Yardbird
1 tablespoon JCS Caribbean chicken
1 tablespoon JCS Boston dry jerk
1 tablespoon Everglades Heat
1 tablespoon Badia sazon caliente
Directions

First thing to do is to separate the flats from the drums. If you need to save space on the smoker or the grill, go ahead and remove the wing tips from the flats. The next thing to do is to brine the chicken wings at least 8 hours or overnight so that they stay moist during the smoking process. So to keep things simple, add the chicken to a 1 gallon zip seal bag (1 bag per 4 pounds of chicken). For the brine we are going to use apple juice as the base liquid, and this will add a nice background flavor to the chicken meat. Start by pouring roughly 2 cups (more if needed) of apple juice into each bag. Next add 1 -2 tablespoons of kosher salt, then optionally 1/2 teaspoon of powdered sage, 1/2 teaspoon thyme, and 1/2 teaspoon of rosemary. The herbs are optional but they also add a nice background flavor directly into the chicken meat.


When the brine is complete and it is time to cook, you should wash off the herbs from the wings. The next thing to do is to lay out the wings on cooling racks for seasoning and cooking. If you are not familiar with cooling racks, they are an inexpensive way to move your food from the kitchen to the smoker and back again. And when you are dealing with a bunch of chicken wings their usefulness becomes obvious. So the next thing to do is to apply a coating of dry rub on all sides of each wing. Here are 4 recipes that we recommend you to try.

Flavor ~ Lemon pepper
Lawry's lemon pepper
Goya adobo
Flavor ~ BBQ
Plowboys yardbird
Killer Hogs AP rub
Flavor ~ Carribean
JCS Caribbean chicken seasoning
JCS Boston dry jerk
Flavor ~ Miami Heat
Everglades Heat
Badia sazon caliente

After the wings are seasoned, fire up the smoker at 175 with hickory or pecan pellets. You can also use a pellet tube with hickory or pecan pellets to add more smoke flavor. When the smoker reaches temp, place the cooling racks of wings into the smoker. Smoke for 1 hour then remove the racks and flip the wings. Place the racks back in the smoker in different positions so that wings in a hot zone move to a cooler zone. This step is not required but it can enhance your cooking process. Continue to smoke the wings for 1 more hour then check the temperature of several flats and drums. Because we will finish these wings on the grill, the target temp will come in about 15 degrees less than 165F. So shoot for 150F as your done temp on the smoker. When the wings are getting close to 150F, fire up the grill and get it preheated on low 300 – 350F. When the wings reach the target temperature, transfer them to the grill and cook them roughly 5 minutes per side. Pull the wings when they reach at least 165F. If you have made several flavors you can wrap each flavor in a sheet of foil to keep them seperate and warm.



Print This Recipe

Watch How To Make This Recipe