Jack Daniels Steak Kabobs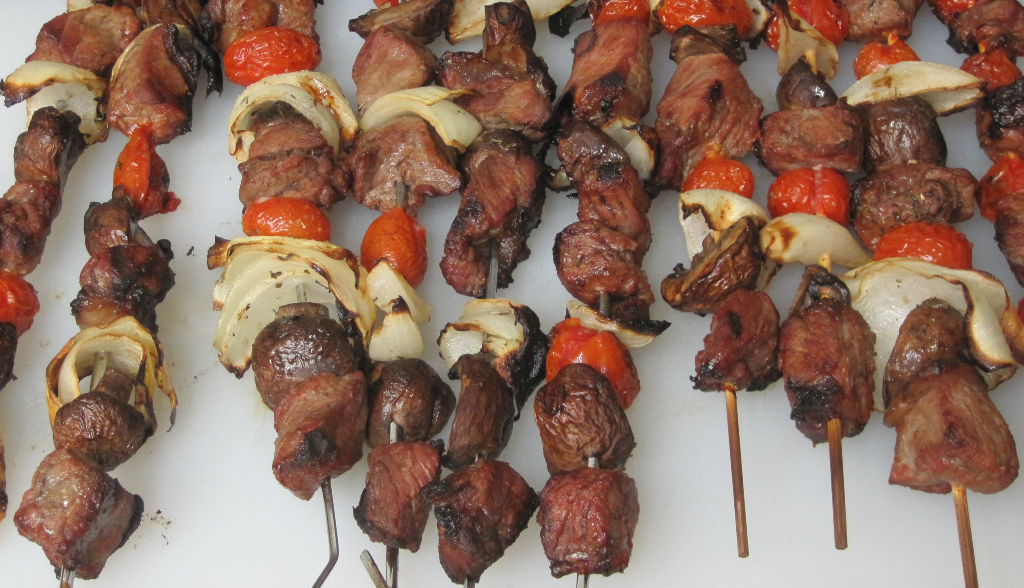 Celebrate Jack Daniels 150th birthday with this killer steak kabob recipe!
Man That's Cooking
Ingredients
2 boneless NY Strip steaks
1 package of portabella mushrooms
1/2 yellow onion
1  package cherry tomatoes
2 shots Jack Daniels
1/4 cup Worcestershire sauce
1/4 cup soy sauce
1/4 cup olive oil
2 teaspoons Everglades seasoning
1 teaspoon herbs de Provence
Directions

First cut the steaks in half lengthwise. Next cut each strip into 1 inch chunks (bite size). Place the steak chunks into a Ziploc bag. Following this pour one shot of Jack Daniels into a standard sized shot glass.  Drink the shot, then pour another shot of Jack Daniels, and add this to the steak in the Ziploc bag.  Add 1/4 cup of Worcestershire sauce, and 1 teaspoon of Everglades seasoning to the bag and seal it tightly.  Push around the steak in the bag so that all peices are coated with seasoning and liquid. Place the bag of steak in the refrigerator and allow it to marinate overnight or at least for 8 hours. Do not marinate more than 24 hours.


Next open the package of mushrooms and wash them down removing all dirt.  Trim the stems and cut each mushroom in half.  Place the mushrooms in a Ziploc bag and add 1/4 cup soy sauce and 1/2 teaspoon of Everglades seasoning. Push around the mushrooms ensuring that all are coated with liquid and seasoning.  Place the mushrooms in the refrigerator to marinate overnight along with the steak.


After at least 8 hours of marination it is time to put the kabobs together.  Peel the skin off a 1/2 of a yellow onion.  Cut this onion into 4 even chunks.  Following this, break up the onion and place aside or in a bowl.


Start with a kabob skewer and place a piece of marinated steak on the stick. Follow this with a mushroom, a onion and finally a tomato. Repeat this until all steak and veggies are used up and on a skewer. Next mix up 1/2 cup olive oil, 1/2 teaspoon of Everglades seasoning and 1 teaspoon of herbs de Provence. Stir this mixture together and brush it on the onions and tomatoes using a grill brush.


Preheat your grill at a medium low setting (300 – 400 degrees).  Place the kabobs on the grill and let them cook for roughly 5 to 7 minutes per side.  These should be flipped at least 3 times, and this should give a medium to medium well range on the steak.  Be careful when flipping the kabobs, try to gently rock the kabob back and forth to loosen the contents off the grill. Be sure not to rip or tear off any parts of the kabob.



Print This Recipe

Watch How To Make This Recipe